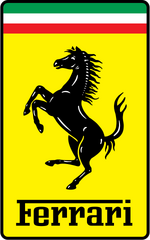 Ferrari S.p.A. is a sports car manufacturer based in Maranello, Italy. It was founded by Enzo Ferrari in 1929.
A Ferrari bicycle jointly produced by China and Italian Ferrari using natural material was exhibited. The bicycle is made from natural Chinese bamboo found at an elevation of more than 1,000 meters, and the connecting parts are fixed with natural hemp ropes and special condensate and decorated with designs of blue and white porcelain.
This is the only bamboo bicycle in the world right now and can be ridden normally. Although it weighs as little as a carbon fiber bike, it is very sturdy and durable.
Current Models
Edit